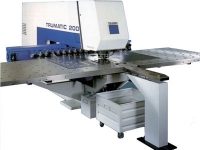 With our Trumpf TC200 CNC Punching Machine we are able to work with material from 0.9mm to 6 mm.
Sheet Sizes range from as small as 100 x100 mm up to 3000 mm x 1500 mm deep.
Materials used are: CR4 (Mild steel), Zintec, Galvanised steel,
Aluminium, Stainless steel, Copper, Brass, Pre-coated steel (Plastisol)
and more.
With our off line programming system Jetcam we are able to optimise the use of material.
Gallery
Click an image below to view the gallery